Just another trendy buzzword or the key to business success? – What is the actual value of digitalisation?
How can IT investments lead to real business added value? What does it take to make digital transformation more than a fashionable yet hollow technical term? BlackBelt and Philip Morris International's joint business breakfast focused on the most pressing issues of the corporate application of digitalisation.
"What makes digital transformation more than a trendy buzzword?" asked the event's first speaker, BlackBelt's Business Director, Zoltán Kővári. The timeliness of the question is indicated by the fact that digitalisation is one of the most critical keywords in the business scene. Yet, it is also becoming increasingly harder to define precisely what it means. To move on in earnest, first and foremost, it's essential to explain the actual phenomenon itself. Theoretically, we must deal with digital transformation because various technological solutions have become so widespread that they don't just represent a developmental step but rather an entirely new paradigm.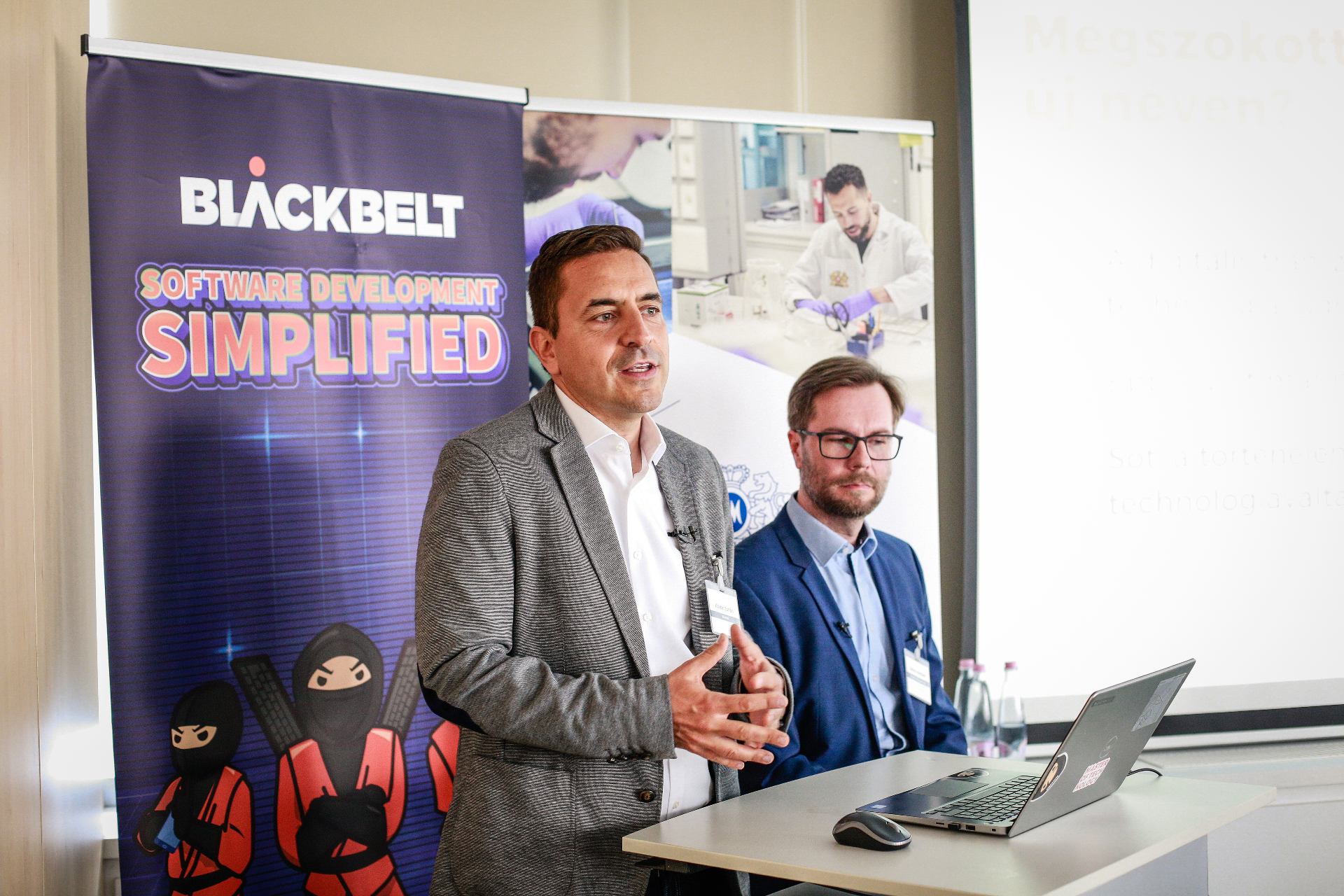 Let's take a closer look!
BlackBelt's director put the notion into context by pointing out that actually, it is nothing new, as the history of technological progress consists of a series of such steps. The acceleration of communication and information technology or the process of industrial automation didn't begin recently. Therefore, we can safely think of digitalisation as the new stage of a stable development arc. However, the examples of previous technological paradigms clearly show that the phenomenon is not to be ignored as new solutions represent a competitive advantage – whoever stays out misses out.
Zoltán Kővári presented four fundamental approaches to the strategies pursued by current companies concerning digitalisation. Companies seeking the first approach usually aim to boost their efficiency by automating processes. The second key motivation stems from a data-driven operation, through which the company primarily strives to develop and optimise its operation through the data obtained through digital business systems. The third typical strategy is based on a client-oriented approach, which examines how it can do the utmost to improve the client experience. The spread of agile, cooperative corporate operations is closely tied to this approach, along with the acceleration of internal innovation-related processes related to the customer experience. Finally, the strategic consideration that is the most compelling in terms of corporate digitalisation is the introduction of hybrid and online work models.
Zoltán summarised the reasoning by underlining that instead of representing a significant leap or a major, one-time investment, effective digital transformation is a continuous IT technology adaptation incorporated into the company's DNA.
Don't let your plans go up in smoke!
Following the introductory lecture, Philip Morris International's Manager for Government Affairs and Sustainability, Norbert Takács, presented how digital transformation is being implemented at one of the largest tobacco companies in the world. In the case of Philip Morris, this process is taking place on a larger scale. It is integrated into the transformation process to renew the company's entire strategy – which aims to achieve a "smoke-free future", i.e. a future business vision that transcends nicotine. This effort affects all parts of the company, including the renewal of its IT solutions.
In the case of Philip Morris, digital transformation is based on three pillars: the company is striving to boost the efficiency of its existing technological background by implementing the latest technological solutions and establishing consumer-oriented forms of operation. All of these directly arise from the renewal of the company's business strategy as, according to Norbert Takács, no IT developments can be truly successful if they are not closely attuned to the internal operational structure of the company.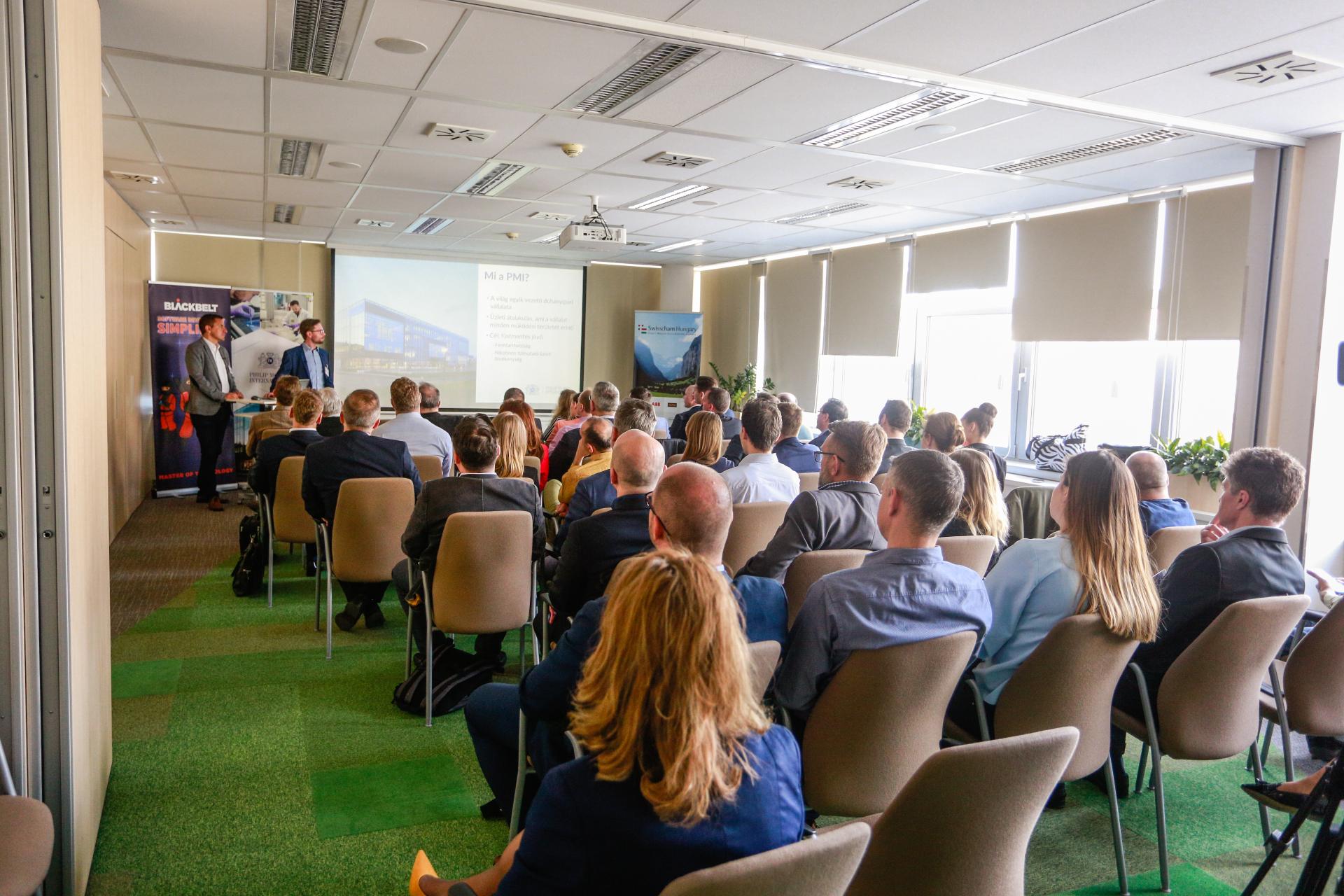 How is a digital company developed?
"Although digital transformation is not about technology, it is unimaginable without technology," said Zoltán Kővári, introducing his thoughts on the technical solutions required for digitalisation. Amongst other things, BlackBelt's director highlighted the role of low-code platforms – such as Mendix, distributed by Siemens – which can reduce the go-to-market time by order of magnitude, thus making developments more profitable in terms of costs. There are many technical solutions tied to data-driven operations, from data collection to data processing to automated data handling and decision-making based on these processes or the structuring of artificial intelligence capable of performing such tasks. With digitalisation technologies, cloud services also play a vital role – which can significantly boost the efficiency of practically all IT processes – and it's also important to highlight the importance of communication and remote working solutions, which establish an entirely new framework for work processes and communications.
Norbert Takács confirmed that practically all of these technological solutions were implemented in the transformation of Philip Morris: they applied machine learning solutions and automated data processing systems. Also, they placed great emphasis on introducing cloud-based collaboration devices.
According to BlackBelt's Business Director, Zoltán Kővári, the case of Philip Morris shows how one can successfully avoid the pitfalls of digital transformation. Such mistakes include companies thinking of digitalisation as the end goal instead of a means to an end or approaching the process as a project instead of a long-term strategy, lacking the necessary managerial commitment or setting out to improve the customer experience by introducing the solutions of competitors. While it is not advantageous to have projects without any strategy, it isn't good to only have theoretical approaches without introducing any developments in practice. Finally, a typical timing-related mistake is if a company fails to think of digitalisation as an ongoing process of adaptation or if it postpones the launch of transformation for too long.
Following the conclusion of the lectures, the business breakfast transitioned into a direct conversation between the audience and the managers in attendance, focusing on the specific technological innovations introduced by Philip Morris and the conceptual shift from product-oriented to consumer-oriented operations.
2022-05-31
Just another trendy buzzword or the key to business success? – What is the actual value of digitalisation?
5 min