IT Staff Augmentation: What it is and why you need it
Even though the IT sector is developing rapidly on a global scale, with more and more revolutionary technologies popping up, organizations are experiencing a severe workforce and skill shortage, which hinders their development.
Since the pandemic, remote work is on the rise, as employees realized they could do high-quality work right from home and skip the stressful commute and office distractions. Even though the IT sector is developing rapidly on a global scale, with more and more revolutionary technologies popping up, organizations are experiencing a severe workforce and skill shortage, which hinders their development.
64% of IT executives says, that talent shortage is their greatest challenge when adopting new technologies. A 2022 Statista research found that almost 40% of organizations surveyed suffer from a lack of IT skills in big data, cyber security and resilience, among others.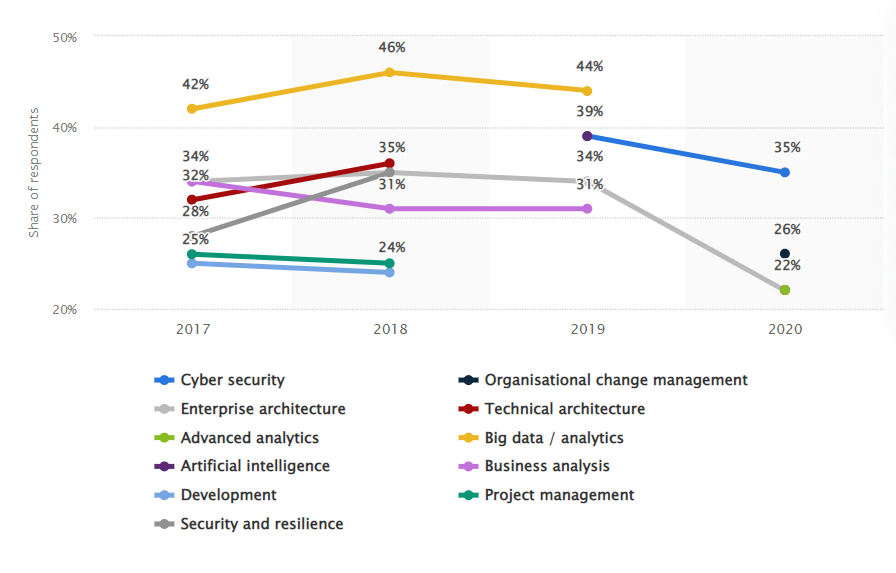 Source: https://www.statista.com/statistics/662423/worldwide-cio-survey-function-skill-shortages/
But what can an organization and an executive do in a situation like this, when they lack the sufficient workforce and applicants to cater to the emerging and changing needs of their audience? The answer is staff augmentation, which delivers an all-encompassing solution to this challenge.
Problems of the traditional corporate model of building an in-house team of IT experts


Before we jump right into the explanation of staff augmentation and how it can change how organizations operate, let us look at the problem of the traditional corporate model of building an in-house team of IT experts.


Costs


When building an in-house team, costs shoot through the roof. Organizations not only need to pay the salary of the new IT team member, but pay taxes and other contributions to the government besides the salary. Also, the organization needs a smooth HR workflow that can onboard the new colleagues in the right ways, which again requires additional costs and efforts. We also need to mention that if a company hires a junior colleague whose onboarding and learning curve can take months, being a long-term investment for the company.


Onboarding


Onboarding is getting the new employee familiar with how the new team operates, corporate customs, used applications, and getting to know the new environment. This period can range from a few days to a few months, depending on the experience level of the new employee, which is a significant financial expense for the organization.


HR processes


Selecting the candidates, interviewing, onboarding, team building, and employee satisfaction management require a streamlined HR workflow with a dedicated team of HR specialists. While HR is an essential department of any organization, executives can significantly decrease the load on the team by minimizing the number of employees within the corporate structure.


Training, development, and team building


Talking about the responsibilities of building an in-house IT team, we cannot ignore the question of personal and professional development. While team-building activities and events are great, employees require training, conferences, or other methods that help them develop their capabilities, supported by the employer. According to a survey, 91% of IT and tech employees expect more learning and training opportunities from their employers. Not complying with these demands can lead to fluctuation in personnel or a considerable delay in the company development because of the knowledge gap.


We can claim that building an in-house IT team is costly, needs a lot of effort and time, and sometimes generates more expenses than profits.


Possibilities to augment an IT team


There are two ways one can extend the IT team:
1. Working with a freelancer
2. Team augmentation


Hiring freelancers can be a cost-effective solution. Cooperation with freelance professionals costs less and frees the company from the responsibility of professional development and complicated HR processes. However, working with several freelancers at the same time who are not in touch with each other, and live in different parts of the world requires exquisite organization and problem-solving skills, as a team leader needs to orchestrate the whole unit, which can be stressful and bothersome.


If a company is working with a single contractor, as soon as the issue of sick leave, maternity leave or dependents arises, the freelancer cannot continue to work, and a gap is created. It doesn't matter if it is long-term, like discontinuing the business, or short-time, like a vacation, most entrepreneurs can't provide a substitute, which can cause serious bottlenecks for the organization.


What is team augmentation?


Team augmentation is finding a team of software developers with the right skills, expertise, and culture that fit your software development projects. In the team augmentation model, a company hires one or more software developers having the specific skills required for a particular project, and doesn't have to worry about the onboarding or education of a new employee. In this setup, the organization is responsible for managing the team members or can do it in cooperation with an outsourcing partner.


Benefits of team augmentation


A synchronized team


A dedicated software development team is a compilation of talented senior developers who specialize in different IT fields and technologies. They know each other, and have been working together for months and years, so working with such a team is smooth and streamlined. In contrast to working with freelancers located in different parts of the world, these developer teams are mostly situated in the same country and are employed by an organization that lends its workforce to organizations needing support for software development projects.


Senior, specialized workforce


One of the advantages of team augmentation is that companies do not need to build a dedicated IT team with all the necessary skills and know-how to build and develop a completely new solution. They only need to plan the functions of their future software and set the options they will use, and then the contracted team augmentation partner will assign team members with the necessary experience to the project.


Lower costs, cost-effectiveness


Extending the capabilities of a team with team augmentation methods is way cheaper and more effective than dealing with the never-ending process of catering to the demands and necessities of an in-house workforce. Thanks to this solution, organizations can forget about meticulous HR processes and paperwork, figuring out how to develop the personnel and making sure they love what they do. A team augmentation partner does it all with their own dedicated team.


Extensive knowledge of technologies


Organizations that lend workforce and IT teams to other companies work with professionals from diverse fields with a wide range of experiences. These teams are built consciously and developed to meet growing and constantly changing needs of business partners.


No administration or complicated HR processes


When a company hires a specialized team of software developers, it doesn't have to hassle with paperwork, accounting, or complex HR processes. The organization contracts the team augmentation partner, who sends an invoice based on the terms of the contract, and that's it. There are no complicated workflows or extra burdens on the accounting or HR team.


How can BlackBelt help you?


BlackBelt is a Hungarian, independent software development organization specializing in team extension and low-code technologies. Based on the requirements, we can provide our partners with one or more developers with a specific skill set missing from the project. Not only can we lend our own professional staff to our partners, but we also have the necessary expertise and experience to quickly find, test, and select the right candidates in the Central European IT pool. Our technical interviews and tests are challenging, so we can guarantee those who pass are productive in projects right from the start.
2022-11-07
IT Staff Augmentation: What it is and why you need it
8 min